Carecor Launches #IAmCarecor Campaign
October 30, 2017
We recognize that the success of our company is a direct reflection of our quality staff. To celebrate their contributions and take a closer look at the person behind the profession, we are excited to launch the #IamCarecor campaign on our social media accounts. This initiative provides a platform to tell real stories that inspire, make us laugh, and bring us together. Carley Miller is one such employee who allowed us to take a closer look. Her responses made us shed a few tears, share her laughter, and value her commitment to the profession even more (if that was even possible).
#IamCarecor – Carley Miller, RN, MN
Question: Who do you look up to the most and why?
Carley: "The person I look up to the most is my mom. And while that might seem cheesy for a 29 year old to admit, I have yet to meet another nurse I respect more. She was a nurse for many years transitioning from the Emergency Department, to surgical wards, to Public Health, not to mention the countless hours she spent nursing her own family back to health with trampoline tricks gone wrong, backyard attempts at Cirque du Soleil with my brother or helping my dad on crutches for six weeks after a run in with the hockey boards… the boards won.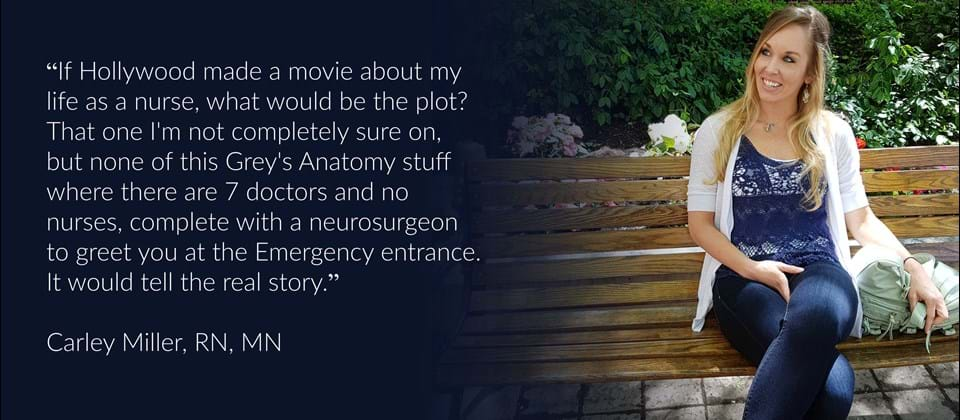 I remember watching out my bedroom window early in the morning waiting for her to come home after a night shift or listening to her recount the crazy Emergency Room dramas of the day was just our typical dinnertime conversation. Never have I met someone who could retain such medical knowledge and apply it in the most empathetic way. I truly believed that she felt deeply for each of her patients. It's her I think about around 4am on night shift when the patient with a runny nose asks for the 6th time when he's going to be seen by the doctor and you've just come back from your second VSA of the night. I try and remember that often we are seeing people on their worst days, and to treat each patient as if they were my own family member.
Unfortunately, I did have to nurse my own family member when my mom got sick and lost the battle to cancer about two years ago. Do I ever miss coming home from a tough shift and debriefing with another nurse who gets it, who's been there. Sometimes I have shifts at the hospitals she's worked at and I think about whether we're working in the same rooms or touching the same MRSA curtains. I smile, and remember her beautiful way of coupling empathy with knowledge. It's one of the biggest reasons why I went into nursing, and also the one that makes me try and be a better nurse each day. So am I a 29 year old nurse who still would call my mom the number one person I look up to… you bet I am."
Question: If you weren't a nurse, what would you be doing instead, or what would your life be like?
Carley: "I see a beach. A lot of sand. Some sort of tiki hut that I run serving Mimosas in the mornings and pina coladas after 11. Sure, I would go save a drowning patient every now and again, or bandage the odd coral cut, but by and large just mixing mimosas."
Question: Describe your biggest achievement to date – personal or professional
Carley: "My greatest achievement in nursing I suppose would be completing my Master's and Nurse Practitioner degree. It felt like quite an accomplishment as it was through quite a difficult time with my mom sick at home. I remember studying for exams at chemo appointments and having her quiz me on best antibiotic choices. I'd usually be wrong and she'd get them all right. It felt really good to walk across the stage and finally get that degree in my hand several years later. Well the fake one anyways. They mail you the real one weeks later."
Question: Describe an occasion when you felt most rewarded on the job
Carley: "I've been lucky to have quite a few times where I've had that epiphany moment that says "ah ha… that's why I went into nursing". One that comes to mind is after a stabbing victim. He was bleeding out quite quickly as stabbing victims tend to do. I just remember working as fast and as hard as I possibly could to get this guy stable enough to be transferred for surgery. A cop took me by the arm afterwards and said, "If I'm ever in that situation, I want you as my nurse. That was incredible." The thoracic surgeon invited the Emerg physician and I to come to the OR for a bit after he had seen how hard and how long we had worked on this guy to get him stabilized. A few weeks later I saw the patient again and besides a few scars he was doing great. I guess you don't always realize when someone's watching. As nurses, we just do what we were trained to do as best as we are able. It's just nice when it pays off and someone takes notice."
Question: What is the most important thing you learned in the last five years?
Carley: "The most important thing I've learned about the nursing career would be the possibilities of this degree, never mind working in countless different areas of the hospital whether it's an Emergency Department or Labour and Delivery or long term care. You can then switch the role completely and move on to Public Health or teaching. I feel very fortunate that in my fairly short career I've had a ton of nursing opportunities like working on the floors or ED, on a cruise line, up north on the reserves, and international relief work. I've learned that you never need to be bored in this profession and can constantly be learning and growing."
Like us on Facebook to check out more of Carley's story on November 1st and others just like hers!
---
Share This News