"The Best Part Is the Flexibility": Q&A with Mousa Abdrabbo
March 18, 2021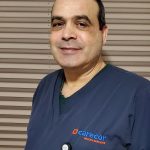 Carecor offers many job opportunities in health care, including contracts for patient attendants, sitters, and observational care providers. These workers play an essential supporting role in clinical settings, providing companionship to patients and ensuring that they are safe and comfortable. To give you more insight into what it's like to be a patient attendant, we invited Mousa Abdrabbo, a Carecor employee in Halifax, to share his experiences.
Q: Thanks for your time, Mousa. How did you become a patient attendant, and when did you join Carecor?
A: I came to Canada with my wife and two children in 2012. I was a medical professional in Egypt, my home country. It's a complicated story, but I wasn't able to continue doing the same job here. I didn't want to leave my family and return to Egypt, so in 2015 I started searching for other kinds of work. I have no experience in other fields, and the hospital is the only place I feel I belong. My wife had been a patient attendant with Carecor for a year or two, so I decided to try it. It's going well! It's not what I planned, but I've tried to accept what I have. This is a good point for everyone: if you cannot get what you want, love what you have. And I am happy with this job. I feel I made the right choice, because my family is the most important to me.
Q: What do your job responsibilities include?
A: I work in hospitals, looking after patients with Alzheimer's disease and other kinds of dementia, or observing post-operative patients. I mainly watch the patients to see if they're okay, keep them safe, help them with their needs and call the nurse. I only work in hospitals.
Q: What is a typical week like for you?
A: I usually work three or four shifts each week – the schedule changes each week. I'm on contract with Carecor, which is renewed every year. Being a patient attendant doesn't require too much training or credentials, or previous health care experience, which is good if you are just starting out.
Q: What do you like about working for Carecor?
A: The best part is the flexibility. I choose my shifts online. If something happens and I need to be off for a day, I just indicate this online or call the office. We get a lot of support from the Carecor office and on-site supervisors. Also, the nature of the job encourages me to stay. It is not the same work I did before, but to be honest, I feel that now I have the chance to know the patients more closely. I get a good experience socially and personally with them. I watch them for a long time and we talk. I can understand their comfort and pain.
Q: How has COVID-19 affected your day-to-day work?
A: Our work has continued the same as before, except with precautions and personal protective equipment in place.
Q: Is there anything else you would like people to know?
A: The thing I'm telling myself always is "Don't give up." That's my advice to anyone coming to Canada with much hope – don't give up, whatever the situation. A door has been opened to you, and you will find good and nice people who will support you.
Learn more about becoming a Carecor patient attendant/sitter/observational care provider
Carecor Health Services provides a number of job opportunities in a variety of settings. Check out who we hire and apply today.
---
Share This News